Table of Contents
---
I. Diabetes and tattoos: what to consider
III. Control Diabetes for less
---
The first tattoo gun may have been developed in the 1890s, but permanent ink was considered counterculture up until very recently. Today it seems like everyone and their mom has a tattoo, and about one-third of Americans have been inked.
Tattoos can cause problems for everyone. But diabetes and tattoos come with some extra considerations. If you're one of 30 million diabetic Americans, preparing for a tattoo greatly reduces the risks.
Diabetes and Tattoos: What to consider
Having diabetes doesn't mean you can't get a tattoo. But there are extra things you'll want to consider before going under the needle.
Healing – Diabetes causes damage to nerves and blood vessels, which affects how quickly wounds heal. When a tattoo needle pierces your skin, it creates a wound that will heal in the coming days and weeks. While typical healing time is around 2 weeks, diabetics can expect a longer healing period. Medications like Januvia help control your diabetes, but they don't necessarily improve healing times for tattoos.
Infection – Any tattoo can become infected while it heals. But longer healing time increases the chance of infection. It's especially important that people with diabetes follow aftercare instructions to keep a tattoo clean as it heals. Watch for signs of infection, and call your doctor if you have:
Fever
Warm or hot skin
Swelling that lasts more than a day
Blistered, red or bumpy skin
Red streaks around your tattoo
Bad smell or pus coming from your tattoo
Blood glucose/HbA1C – Healing time and risk of infection are increased if your diabetes isn't well controlled. Check if your doctor is happy with your blood glucose and HbA1C levels.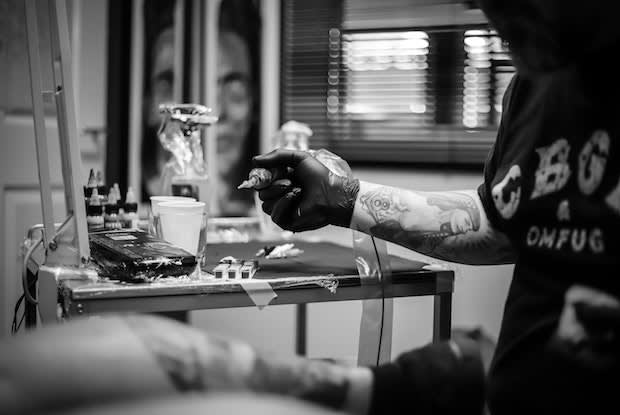 Location – Legs and feet of diabetics often have poor circulation and take longer to heal. You might want to choose a different part of your body to get tattooed, especially if it's a large piece.
Plan Ahead – Getting tattooed can take several hours. Come ready to check your blood sugar and have a snack on hand. It's also a good idea to let your tattoo artist know you have diabetes so they can check in on you regularly. [1]
Medical ID Tattoos
Like many other chronic medical conditions, people with diabetes often wear a medical ID. This lets emergency responders know that you may be dealing with dangerously low blood sugar. While bracelets are the most common form of medical ID, some people choose to get tattooed instead.
Medical ID tattoos are a practical choice for people who can't wear jewelry at work, but they might not be recognized right away during an emergency. A medical ID tattoo should be somewhere easily spotted, like your wrist or forearm. Medical imagery like the Rod of Asclepius (featuring a snake winding up a staff) will help make your tattoo stand out to emergency personnel. Include clear lettering that reads "Type 1/Type 2 Diabetes", and any other crucial medical information. [2]
Control Diabetes for Less
Keeping diabetes well controlled allows you more freedom in life, and often includes taking a prescription medication like Januvia. The low prices at TrueCanadaPharmacy.com help you control your diabetes for less, which is perfect if you're saving for a new tattoo. Click here to view prices for your prescriptions and place your first order online or over the phone.
DISCLAIMER: The content in this article is intended for informational purposes only. This website does not provide medical advice. In all circumstances, you should always seek the advice of your physician and/or other qualified health professionals(s) for drug, medical condition, or treatment advice. The content provided on this website is not a substitute for professional medical advice, diagnosis or treatment.